Want to win free stuff from X 98.5? There's contests going on all the time! Here are the different ways you can win:
On-air contests: Listen each weekday for the cue to call, and be the right caller to (864) 752-9985
Online contests: Register online for prizes, the active contests will be listed below
Social media contests: X 98.5 does a lot of contests on Facebook, so make sure you've liked our fan page!
THIS WEEK: February 6-10: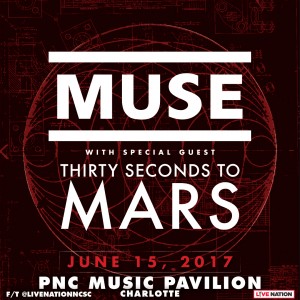 X98.5 WANTS TO SEND YOU TO SEE MUSE, LIVE JUNE 15th AT PNC MUSIC PAVILION IN CHARLOTTE! TICKETS GO ON SALE THIS FRIDAY.
THIS WEEK ONLY, YOU CAN WIN TICKETS BEFORE YOU CAN BUY THEM! LISTEN ALL WEEK TO WIN TICKETS TO SEE MUSE WITH SPECIAL GUESTS 30 SECONDS TO MARS! TUNE IN TO SHANELL THIS WEEK AT 12NOON AND LISTEN FOR THE CUE-TO-CALL. WHEN YOU HEAR IT, BE CALLER NUMBER 5 AT (864) 752-9985 AND WIN TICKETS BEFORE YOU CAN EVEN BUY THEM! ONE LUCKY GRAND PRIZE WINNER WILL ALSO GET AN EXCLUSIVE MUSE MERCH PACK! LISTEN AND WIN TICKETS TO SEE MUSE ALL WEEK LONG ON X98.5 THE UPSTATE'S ONLY ALTERNATIVE!
X98.5 WANTS TO SEND YOU TO SEE MUSE, LIVE JUNE 15th AT PNC MUSIC PAVILION IN CHARLOTTE! WIN TICKETS TO SEE MUSE WITH SPECIAL GUESTS 30 SECONDS TO MARS! ONE LUCKY GRAND PRIZE WINNER WILL ALSO GET
A complete copy of these rules can be obtained at the offices of any radio station owned and/or operated by Summit Media, LLC ("Sponsor") during normal business hours Monday through Friday or by requesting a copy in