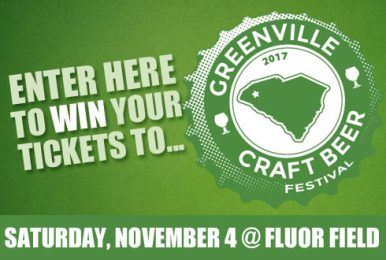 **You must be 21 or older to win!**

Greenville Craft Beer Festival is returning for it's fifth year on November 4th, 2017, and we invite you to come check out why this festival is considered THE UPSTATE'S PREMIER CRAFT BEER FESTIVAL!

They provide an amazing setting for all their fellow beer lovers. Featuring numerous specially selected local, regional, and national breweries, they have something for everybody's palate. This year's festival is returning to Fluor Field at the West End, providing an atmosphere unlike any other beer festival! By requiring every brewery to have an employee in attendance, as well as offering "Beer College" classes onsite, GCBF ensures that guests leave with a greater understanding of not only their favorite breweries but all of the magic that is Craft Beer!
**You must be 21 or older to win!**