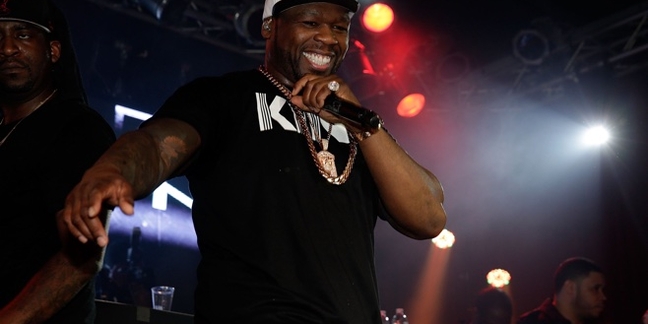 50 Cent has announced a variety show on A&E. The working title is "50 Cent Presents," and it will feature "sketches, stand-up, reality experiments, music, magic, dance, and celebrity guest appearances," according to The Hollywood Reporter. 50 will host, star, and executive produce the show, which is currently in development. He said of the program:
I grew up watching variety shows and am excited to put my own spin on the format. I hope everyone is ready to bring their talent forward, I want to show the world the best of the best.
A&E's head of programming and fellow executive producer Elaine Frontain Bryant added:
Leaning into A&E's legacy in showcasing the arts, we're setting out to redefine the traditional variety show. 50 Cent is the perfect partner to refresh this classic format. He is a true tastemaker across industries and we are excited to see his impressive showcase of talent.
"50 Cent Presents" is not the rapper's only current TV venture. He executive produces the Starz series "Power." 50's last album is 2014's Animal Ambition.
Watch 50 Cent's video for "Big Rich Town," the theme song to "Power":