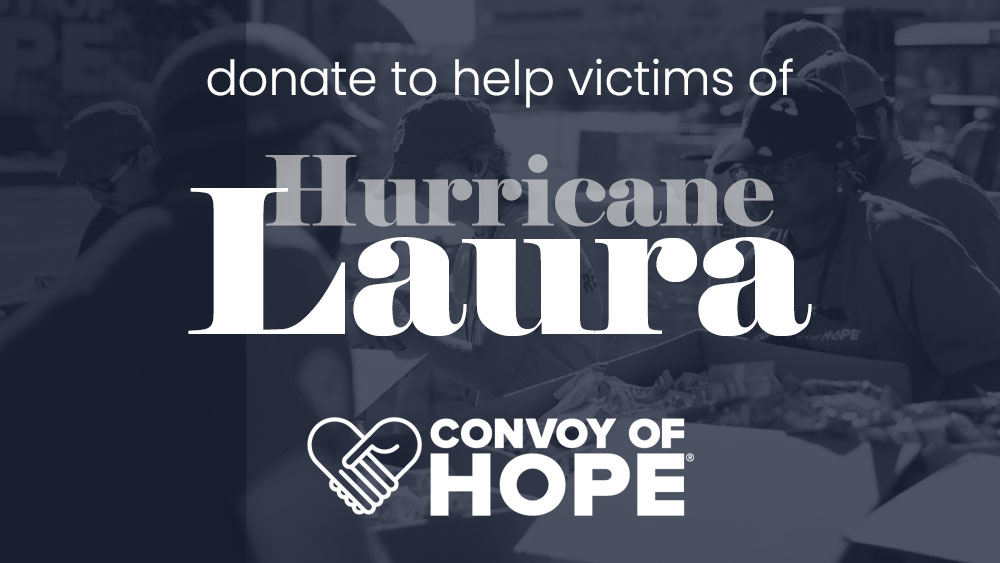 According to an article on CNN.com "With a lack of institutional responses that center on racial, gender and economic equity, disasters disproportionately affect vulnerable communities."
That's why we've partnered with Convoy of Hope, to help those under-served victims of Hurricane Laura.
About Convoy of Hope:
Approach
Convoy of Hope's Disaster Services team is consistently among the first to respond to disasters at home and around the world. Highly regarded for our scalable response and distribution model, we utilize our eight international warehouses, four domestic warehouses, a specialized disaster response fleet, and a highly-trained team of staff and volunteers
to respond to disasters quickly and effectively. We serve millions of people affected by natural and man-made disasters every year through partnerships with local churches,  businesses, government agencies, other nonprofits, and our incredible donors and volunteers. Disasters may not discriminate, but neither does true kindness. We've responded to
hurricanes, typhoons, earthquakes, tornadoes, volcanoes, wildfires, droughts, floods, and other events in the U.S. and around the world. Why? Our heart and our mission is to give
people help and hope in their greatest time of need.
Preparedness
Our team provides preparedness and resilience training for leaders and volunteers. We work to equip each individual with the wisdom and tools they need to partner with Convoy of Hope during a disaster and help their communities become more prepared before they experience one.
Monitoring
Our team constantly monitors developing weather and natural disaster events, as well as the ever changing climate of conflict and economic situations. By staying up-to-date and utilizing on-the-ground connections with partners, we gain a better understanding of the realities in the affected areas and can respond quickly.
Response
Response efforts vary depending on the nature of a disaster. We work with national, state, and local partners to equip our teams and volunteers with the information they need to provide immediate assistance through the distribution of relief supplies, such as food, clean water, hygiene kits and other needed items.
Recovery
Our ultimate goal is to assist families and communities in returning to self-sustainability after a disaster. To do that, our teams utilize various initiatives, including organizing volunteers in debris removal and cleanup, distribution of building materials, income generation projects, agricultural training, and assisting in the rebuilding process. We continue our work for months — sometimes even years — to bring immediate and long-term relief to those who are suffering.