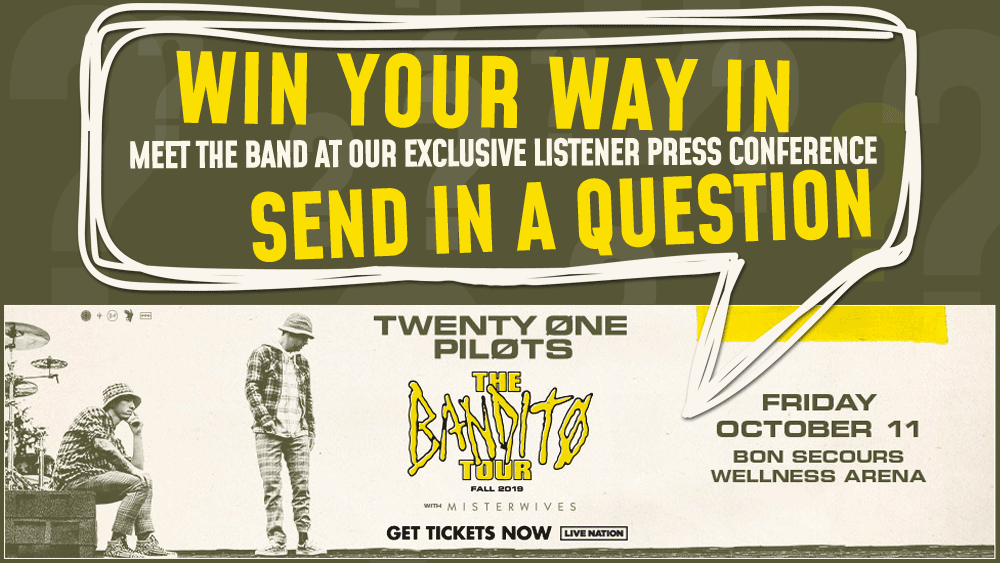 When Twenty One Pilots Bandito Tour comes to the Well in October, a few of our luckiest listeners will win a pair of tickets to the show… AND be able to attend our EXCLUSIVE pre-show X 98.5 Listener Press Conference,where you can meet the band, and ASK THEM A QUESTION! Read that again – you will get to chill in a room with Joseph and Josh, and ask them whatever you want!
Now that we have your attention, here's how to enter:
THINK of a great question. (Please send something better than "How'd you come up with yer band name?"*)
SUBMIT your question below, between now and Oct 2nd.
LISTEN to X 98.5 every weekday at 4pm for your name and question. If you hear it, call us back at (864)752-9985 within 9 minutes and 85 seconds to win! (Listen for your name September 16-October 4, weekdays at 4pm.)
So… one more time for the folks in the back:
Submit a question below; listen to X for your name and question weekdays at 4pm starting September 16th; if you hear it, call us back at (864)752-9985 to win a pair of tickets with passes to attend the X 98.5 Pre-Show Listener Presser.

Fifteen winners will be awarded tickets and passes, but the band only has time for 10 QUESTIONS (so take step #1 seriously, and think up a great one)!
COURTESY OF FUELED BY RAMEN AND THE UPSTATE'S ALTERNATIVE ROCK, X 98.5!
*Joseph came up with the band's name while studying "All My Sons" by Arthur Miller; a play about a man who commits suicide after causing the death of twenty one pilots during World War II because he knowingly sent them faulty parts for the good of his business.