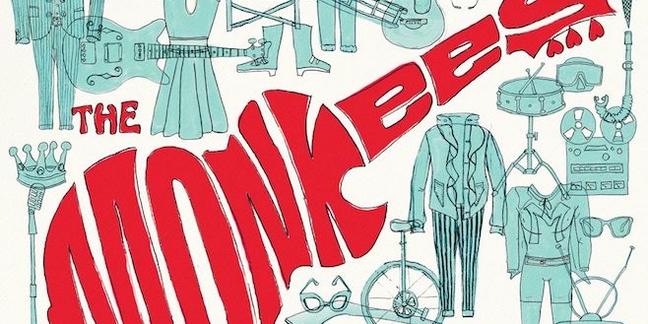 It's been fifty years since the Monkees entered the public consciousness with their television program "The Monkees." The band will celebrate the milestone by releasing Good Times!, their first collection of new material since 1997's Justus, as Rolling Stone reports. It features songs penned by Weezer's Rivers Cuomo, Oasis' Noel Gallagher, Death Cab For Cutie's Ben Gibbard, Rogue Wave's Zach Rogue, and more. They've also announced a world tour; you can find the dates below. 
Aside from the contributions from modern artists, Good Times! will include songs written for the Monkees by artists like Neil Diamond, Carole King, and Harry Nilsson. It was produced by Fountains of Wayne bassist Adam Schlesinger and is their first without Davy Jones, who died in 2012. It's also slated for a June 10 release.
The band's lineup is Micky Dolenz and Peter Tork; founding member Michael Nesmith, who toured with Dolenz and Tork in 2014, is not expected to participate. Speaking with Rolling Stone, Dolenz discussed the reasoning behind recruiting modern musicians for the new record:
I'm not a big music listener outside of Frank Sinatra during martini hour, but I began doing research and I realized that the whole indie rock scene is all about recapturing that 1960s jangly guitar sound of the Monkees, amongst many other groups, of course. One reason we don't have a final track listing yet is because once we put the word out all these people said they wanted to get involved.
Several of the songs on the record are still in progress, Dolenz told Rolling Stone. "We all agree that the lyrics in the Rivers Cuomo song needed to be aged up a little but," he said. "It sounds like it's about a little girl and I'm 70 years old, so Rivers is re-writing the lyrics."
The Monkees:
05-18 Fort Myers, FL – Barbara B. Mann Performing Arts Hall
05-19 Melbourne, FL – King Center for the Performing Arts
05-20 Tampa, FL – Ruth Eckerd Hall
05-21 Atlanta, GA – Frederick Brown Jr. Amphitheater
05-24 Charlotte, NC – Blumenthal PAC – Belk Theater
05-26 Washington, D.C. – Warner Theatre
05-27 Boston, MA – The Wilbur Theatre
05-28 Philadelphia, PA – Keswick Theatre
05-29 Red Bank, NJ – Count Basie Theatre
06-01 New York, NY – The Town Hall
06-03 Toronto, Ontario – Casino Rama
06-04 Windsor, Ontario – The Colosseum at Caesars Windsor
06-05 Cleveland, OH – Hard Rock Live Northfield Park
06-07 Fort Wayne, IN – Foellinger Theatre
06-10 Louisville, KY – Louisville Palace Theatre
06-12 Indianapolis, IN – Murat Theatre at Old National Centre
06-14 Dayton, OH – Rose Music Center at The Heights
06-28 Dallas, TX – AT&T PAC – Winspear Opera House
06-30 Tulsa, OK – Hard Rock Hotel & Casino
07-01 Mayetta, KS – Prairie Band Casino & Resort
07-16 Hampton Beach, NH – Hampton Beach Casino Ballroom
07-22 Hot Springs, AR – Oaklawn Racing and Gaming
09-15 Phoenix, AZ – Mesa Arts Center
09-16 Los Angeles, CA – Pantages Theatre
09-17 Las Vegas, NV – Primm Valley Casino Resorts
09-20 San Francisco, CA – The Warfield
09-21 Modesto, CA – Gallo Center For The Arts
09-25 Seattle, WA – The Moore Theatre
10-01 Biloxi, MS – Hard Rock Live
10-22 Paso Robles, CA – Vina Robles Amphitheatre
10-29 Shippensburg, PA – H. Ric Luhrs PAC