Want to win free stuff from X 98.5? There's contests going on all the time! Here are the different ways you can win:
On-air contests: Listen each weekday for the cue to call, and be the right caller to (864) 752-9985
Online contests: Register online for prizes, the active contests will be listed below
Social media contests: X 98.5 does a lot of contests on Facebook, Twitter, and Instagram, so be sure you're following us!
December 5-11: Listen each weekday around 11am and 5pm for a chance to win two passes PLUS MEET AND GREET to our upcoming Sound Session with lovelytheband! When you hear the cue to call, be the right caller to 864-752-9985!
ONLINE CONTESTS on X 98.5 FM: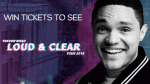 Trevor Noah is coming to the Well on March 22 as a part of his Loud and Clear Tour, and X 98.5 has a...
Read More
Official Contest Rules:
For SummitMedia Radio Station Contests & Sweepstakes SummitMedia, LLC ("Sponsor") will conduct all SummitMedia radio station contests and sweepstakes ("Contests"), including on-air contests, online...
Read More
A complete copy of these rules can be obtained at the offices of any radio station owned and/or operated by Summit Media, LLC ("Sponsor")...
Read More
NO PURCHASE OR PAYMENT OF ANY KIND IS NECESSARY TO ENTER OR WIN. The Facebook Contest ("Contest") is sponsored SummitMedia LLC ("Sponsor"). This Contest...
Read More