Here are the different ways you can win on-air, online and on social!

On-air contests: Listen for the cue to call, and be the right caller (864) 752-9985
Online contests: Register below, any active contests will be listed on this page
Contests: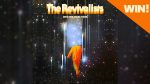 X 98.5 wants to send you and a friend to see The Revivalists when they play Asheville on April 11th, 2020! You can enter...
Read More
---
X 98.5 Contest Rules:
The following are the official rules of SummitMedia, LLC ("Sponsor") for all General Contests. By participating, each participant agrees as follows: NO PURCHASE IS...
Read More
NO PURCHASE OR PAYMENT OF ANY KIND IS NECESSARY TO ENTER OR WIN. The Facebook Contest ("Contest") is sponsored SummitMedia LLC ("Sponsor"). This Contest...
Read More